On October 12th, 1914, the town council of Sinopoli unanimously deliberated to address an appeal to the Province of Reggio Calabria and to all the Municipalities which belonged to it, to subsidy the performance of the new opera "La sposa dell'ombra" composed by Rocco Trimarchi, on "libretto" by the comedy writer Sandro Pastorino (Salerno-region Campania, 28/2/1882 - 27/1/1952).
The original text of the deliberation, beyond referring to the proven musical value of Master Trimarchi, already applauded as a pianist and author in several Italian towns, it often mentions the many difficulties of his artistic career.

The Municipalities involved in the appeal gave a prompt and generous answer.

We sincerely thank everybody, particularly the town councils whose deliberations we had the pleasure to read: Reggio Calabria, Pellaro, Seminara, Gerace, Gerace Marina, Gallico, Oppido Mamentina, San Giorgio Morgeto, Melicuccà, Mammola, Delianova, San Procopio, Tresilico, Scilla, Rosalì, Cannitello, Santo Stefano in Aspromonte, Cinquefrondi, Cosoleto, Scida, Grotteria, Varapodio, Terranova Sappominulio, S.Eufemia, Siderno, S.Cristina d'Aspromonte.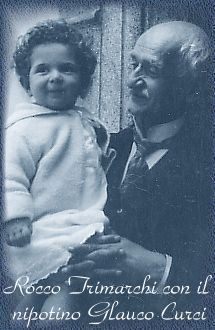 Rocco with his nephew Glauco